HyreCar Assets To Be Acquired by Getaround, Creating the Largest Gig Economy Carsharing Marketplace in the U.S.
HyreCar to sell substantially all of its assets to carsharing marketplace leader, Getaround, unlocking new opportunities for gig economy workers and vehicle owners
LOS ANGELES, May 15, 2023 (GLOBE NEWSWIRE) -- HyreCar Inc. (OTC: HYREQ), the carsharing marketplace for ridesharing and food and package delivery services, announced that it will sell substantially all of its assets to the world's first connected carsharing marketplace, Getaround (NYSE: GETR). The transaction is expected to close on or about May 15, 2023.

The acquisition brings HyreCar and Getaround one step closer to achieving both companies' shared vision of providing a seamless and efficient carsharing experience that will revolutionize the way people use transportation to live and work. Together, the companies are empowering individuals to embrace the gig economy, unlocking new earnings potential opportunities, and contributing to the creation of a greener society.
"Following significant interest from potential bidders for HyreCar's assets, I'm excited that the next chapter of HyreCar will be as a part of the Getaround family," said Eduardo Iniguez, CEO and CFO of HyreCar. "HyreCar's thousands of drivers will now be able to access greater vehicle selection to participate in the gig economy by unlocking meal and delivery opportunities using the Getaround platform."
At the close of the acquisition, HyreCar's gig carsharing service will continue with no interruptions. With the full advantage of Getaround's expanded reach, digital marketplace and connected car technology and unique partnerships, HyreCar's current customers can look forward to new and exciting opportunities over time.
"We are particularly excited to introduce HyreCar's customers to Getaround Connect®, the leading contactless sharing platform for the carsharing industry," said AJ Lee, HyreCar's COO. "From instant, easy booking of trips to built-in GPS tracking and anti-theft functionality, the platform will provide drivers and owners alike with greater convenience and security than ever before."
"This transaction unites two pioneering companies in the carsharing space. More than just sound economics for Getaround on our path to profitability, acquiring substantially all of the HyreCar assets will strengthen the business," said Sam Zaid, CEO and Founder of Getaround. "HyreCar's community of drivers will now benefit with greater earnings potential on the Getaround marketplace and the opportunity to take advantage of exciting improvements leveraging GETR technology and partnerships. For Getaround, our business is now fortified with the addition of the HyreCar gig carsharing service to our leading-edge carsharing platform."
HyreCar has been represented by Greenberg Glusker LLP in Los Angeles, and Cole Schotz as Delaware counsel. Getaround has been represented by DBS Law in Seattle, and Barnes & Thornburg as Delaware counsel.
About HyreCar
HyreCar Inc. (OTC: HYREQ) is a national carsharing marketplace for ridesharing, food, and package delivery via its proprietary technology platform. The company has established a leading presence in Mobility as a Service (MaaS) through individual vehicle owners, dealers, rental agencies, and OEMs that wish to participate in new mobility trends. By providing a unique opportunity through a safe, secure, and reliable marketplace, HyreCar is transforming the industry by empowering all guests and hosts to profit from Mobility as a Service. For more information, please visit https://www.hyrecar.com/.
About Getaround
Offering a 100% digital experience, Getaround (NYSE: GETR) makes sharing cars and trucks simple through its proprietary cloud and in-car Connect® technology. The company empowers consumers to shift away from car ownership through instant and convenient access to desirable, affordable, and safe cars from entrepreneurial hosts. Getaround's on-demand technology enables a contactless experience — no waiting in line at a car rental facility, manually completing paperwork, or meeting anyone to collect or drop off car keys. Getaround's mission is to utilize its peer-to-peer marketplace to help solve some of the most pressing challenges facing the world today, including environmental sustainability and access to economic opportunity. Launched in 2011, Getaround is available today in more than 1,000 cities across the United States and Europe. For more information, please visit https://www.getaround.com/.
Forward-Looking Statements
Certain statements in this press release may constitute "forward-looking statements" within the meaning of the federal securities laws. Forward-looking statements generally relate to future events, such as statements by the chief executive officers of Getaround and HyreCar, statements regarding expected synergies, future financial results and other benefits of the transaction, sources of funding for the acquisition, and the timing of completion of the acquisition. In some cases, you can identify forward-looking statements by terminology such as "intends," "plans," and "will," or the negative of these terms or variations of them or similar terminology. Such forward-looking statements are subject to risks, uncertainties, and other factors which could cause actual results to differ materially from those expressed or implied by such forward-looking statements. We have based these forward-looking statements on our current expectations and assumptions and analyses made by us in light of our experience and our perception of historical trends, current conditions and expected future developments, as well as other factors we believe are appropriate under the circumstances. However, whether actual results and developments will conform with our expectations and predictions is subject to a number of risks and uncertainties, many of which are beyond our control, including the possibility that the acquisition will not be completed on a timely basis or at all, whether due to the failure to satisfy the conditions of the acquisition or otherwise, the inability of Getaround to realize successfully any anticipated synergy, financial results or other benefits when (and if) the acquisition is completed, the inability of Getaround to integrate successfully the HyreCar assets when (and if) the acquisition is completed, the possibility Getaround will need to raise additional capital to fund the aggregate purchase price for the acquisition, and Getaround incurring and/or experiencing unanticipated costs and/or delays or difficulties relating to the acquisition when (and if) it is completed; and the other factors under the heading "Risk Factors" in our Current Report on Form 8-K filed with the SEC on December 14, 2022, and in other filings that the Company has made and may make with the SEC in the future. All of the forward-looking statements made in this press release are qualified by these cautionary statements. The actual results or developments anticipated may not be realized or, even if substantially realized, they may not have the expected consequences to or effects on the Company or our business or operations. Such statements are not intended to be a guarantee of future performance and actual results or developments may differ materially from those projected in the forward-looking statements. You should not place undue reliance on these forward-looking statements, which are made only as of the date of this press release. We undertake no obligation to update or revise any forward-looking statements, whether as a result of new information, future events or otherwise, except as may be required under applicable securities laws.
Contacts
HyreCar Inquiries
press@hyrecar.com
Getaround Inquiries
Investors
investors@getaround.com
Media
press@getaround.com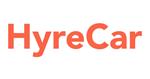 Source: HYRECAR