HyreCar Announces $12.25 Million in Financing to Further Accelerate Growth and Terminates "At-the-Market" Offering
LOS ANGELES, Jan. 06, 2023 (GLOBE NEWSWIRE) -- HyreCar Inc. (NASDAQ: HYRE), the carsharing marketplace for ridesharing and food and package delivery services, today announced that it had raised $12.25 million in financing. The financing includes an initial tranche of $4.25 million that has been funded and a second tranche of $8 million that is subject to shareholder approval which is anticipated in the first quarter 2023. Less than $1 million in securities issued from the initial tranche will be registered securities and issued off of an S-3 registration statement. The remaining securities from both the initial and second tranches will be issued in a private placement that will be registered with the U.S. Securities and Exchange Commission in an S-1 registration statement at a later date.

The Company simultaneously terminated the balance of its "at-the-market" equity offering program with D.A. Davidson & Co. (the "ATM Offering") of $6.2 million from the $7.9 million facility.
The additional capital will accelerate ongoing growth initiatives, including the Company's joint venture with AmeriDrive to purchase cars through a $100 million revolving line of credit with Credit Suisse and Medalist Partners. To date, the joint venture company has drawn $25 million on the line for the purchase of over 1,300 vehicles, with 1,000 vehicles already acquired for exclusive listing on the HyreCar platform.
The Company's Interim CEO and CFO, Eduardo Iniguez, arranged the financing. With respect to the registered portion of this offering, Northland Securities, Inc. served as sole Placement Agent and D.A. Davidson & Co. served as Financial Advisor.
The securities were offered in a private placement under Section 4(a)(2) of the Securities Act of 1933, as amended (the "Act"), and/or Rule 506(b) of Regulation D and/or Regulation S promulgated thereunder and have not been registered under the Act, or applicable state securities laws. Accordingly, the securities may not be reoffered or resold in the United States except pursuant to an effective registration statement or an applicable exemption from the registration requirements of the Act and such applicable state securities laws.
This press release does not constitute an offer to sell or the solicitation of an offer to buy the securities, nor shall there be any sale of the securities in any state in which such offer, solicitation or sale would be unlawful prior to the registration or qualification under the securities laws of such state.
About HyreCar 
HyreCar Inc. (NASDAQ: HYRE) is a national carsharing marketplace for ridesharing, food, and package delivery via its proprietary technology platform. The company has established a leading presence in Mobility as a Service (MaaS) through individual vehicle owners, dealers, rental agencies, and OEMs that wish to participate in new mobility trends. By providing a unique opportunity through a safe, secure, and reliable marketplace, HyreCar is transforming the industry by empowering all to profit from Mobility as a Service. For more information, please visit hyrecar.com.
Forward-Looking Statements
Statements in this release concerning HyreCar Inc.'s ("HyreCar" or the "Company") future expectations and plans, including, without limitation, HyreCar's future earnings, partnerships and technology solutions, its ability to add and maintain additional car listings on its platform from car dealers, and consumer demand for cars to be used for ridesharing, may constitute forward-looking statements for the purposes of the safe harbor provisions under the Private Securities Litigation Reform Act of 1995 and other federal securities laws and are subject to substantial risks, uncertainties and assumptions. You should not place reliance on these forward-looking statements, which include words such as "could," "believe," "anticipate," "intend," "estimate," "expect," "may," "continue," "predict," "potential," "project" or similar terms, variations of such terms or the negative of those terms. Although the Company believes that the expectations reflected in the forward-looking statements are reasonable, the Company cannot guarantee such outcomes. HyreCar may not realize its expectations, and its beliefs may not prove correct. Actual results may differ materially from those indicated by these forward-looking statements as a result of various important factors, including, without limitation, market conditions and the factors described in the section entitled "Risk Factors" in HyreCar's most recent Annual Report on Form 10-K and HyreCar's other filings made with the U. S. Securities and Exchange Commission. All such statements speak only as of the date made. Consequently, forward-looking statements should be regarded solely as HyreCar's current plans, estimates, and beliefs. Investors should not place undue reliance on forward-looking statements. HyreCar cannot guarantee future results, events, levels of activity, performance, or achievements. HyreCar does not undertake and specifically declines any obligation to update, republish, or revise any forward-looking statements to reflect new information, future events, or circumstances or to reflect the occurrences of unanticipated events, except as may be required by applicable law.
Investors:
Scott Arnolds
CORE IR
scotta@coreir.com
Media:
Allie Potter
Skyya PR for HyreCar
allie@skyya.com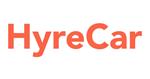 Source: HYRECAR